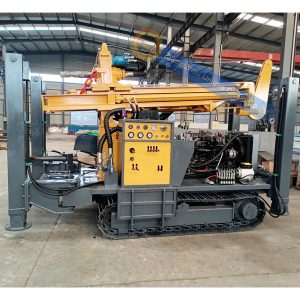 UY300 crawler drilling rig is mainly used to drill the borehole for Irrigation, household water etc. It uses the excavator special crawler chassis as the walking device, which has stronger off-road performance. UY series drill rig can equip not only Mud pump but also Air compressor to satisfy different work need. It is suitable for drilling water well holes in soil and stone works such as water conservancy etc. It has the advantages of fast footage, convenient operation and flexible movement. Sometimes it can also be used for slope protection,anchoring and piling. Drillable diameter is 80-500mm, economic depth is 300m.
The UY300 crawler drilling rig in the loading picture was sent to Maldives.
We have many model to match different working needs, If you want to purchase, kindly mail or call us freely.
Website:https://www.dth-drilling.com
Email:[email protected]