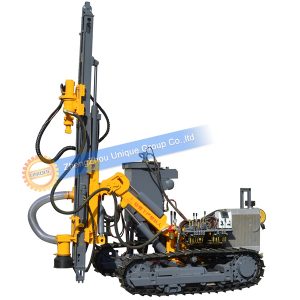 TKY100 type low wind pressure crawler down-the-hole drill carriage
Strong and reliable power
Using dual-cylinder diesel engine as power, with high traction power and strong climbing ability; the whole machine has small vibration and stable operation
Adopting patented diesel engine air intake regulating device (patent number: 2008820087606.3) plus the perfect combination of desert air filter and oil filter three-stage filter, which enhances the adaptability of the drill rig to harsh environments and prolongs the service life of the diesel engine
Flexible boom
Adopting a movable drill boom, the inclination of drilling and the height of horizontal hole can be adjusted by controlling the expansion and contraction of the oil cylinder, which expands the scope of drilling and improves the adaptability of the product.
Reliable hydraulic pump set
Using two independent gear pumps for oil supply, reliable operation, strong adaptability and convenient maintenance.
It adopts gear transmission and soft characteristic connection, compact structure and stable operation.
Reliable hydraulic system
The use of special hydraulic components improves the stability and reliability of the system.
Add an oil cooling device to eliminate the influence of hydraulic oil heating on the system.
If you also need it, please contact us.
Website: https://www.dth-drillrig.com
Email: [email protected]