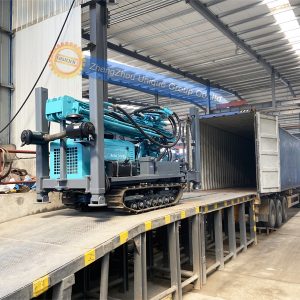 2 sets of Drilling rig machine -UY180 were completed and shipped to Maldives.
UY180 belongs to Crawler Multifunctional Water Well Drilling Rig.
So you could choose 3 kinds of drilling method:
 Dry hydraulic drilling install with air compressor
 Drill with mud pump and diesel engine
 Two-function integrated machine, multifunctional
Our drilling rigs are not only designed for water drilling. You could use it in all conditions based on pore-forming purpose.
It widely used in industrial and agriculture water project, testing well and other exploration borehole. In particular,
drilling hole for geothermal heating, it can also meet the engineering basis for reinforcement, loose gravel drilling rock
formation connected with a variety of engineering. Our drilling rigs are more efficiency and with low failure rate, more economic and durable, and with a high comprehensive cost performance.
If you also need it, please contact us.
Zhengzhou Unique Industrial Equipment Co., Ltd
Tel:+86 37163699132 | Fax:+8637163935058
Website:  www.drillingrigmachine.com