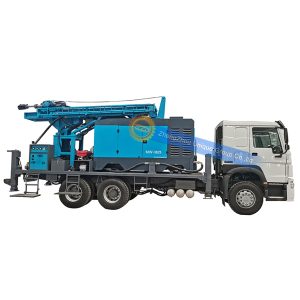 Truck Mounted Type Water Well drilling rig machine
The truck-mounted drilling rig is specially designed for field drilling and convenient transportation.
The vehicle-mounted type integrates the truck chassis, drilling rig equipment, air compressor, mud pump, etc. The structure is reasonable and the operation is simple. After arriving at the construction site, there is no need for additional crane loading and unloading, which greatly facilitates the drilling work and saves manpower and material resources.
1. The truck chassis can be selected from Chinese brands such as Sinotruk and Dongfeng, or other brands can be selected according to customer requirements.
2. The drilling rig can choose PTO to take power, or can choose independent deck engine.
3. Optional air compressor and mud pump for percussion drilling or mud drilling.
4, Up to 6.6 meters of stroke, retractable carriage, saving space.